Have you ever wished that you could have remote control over the cars coming up behind you? Well, the DS-500 really is the next best thing!! Every single design aspect of the light has been crafted to throw as much pure RED light as possible directly into the field of vision of overtaking drivers. The results are so stunning that this diminutive little light actually has the power to modify drivers' behavior. Unlike other taillights that are merely visible during the day *when you look at them*, this light has the power to actually *force* someone to look up from their phone, or turn their head in order to try and determine the source of this other-worldly bright flashing light in their peripheral vision. In the daytime, this light is BOLDLY visible for miles. Given a long stretch of flat road, drivers will see it long before they can even make out the profile of a cyclist. As they approach, the intensity of the light continues to grow much brighter than anything they've ever seen on the road. Drivers will be forced to think about and process this new information, and right then and there, you've won half the battle. By the time the car has reached you, they will often slow down and give you a much wider berth because you're now a commanding presence on the road, rather than "just another cyclist" to go around! Whether it's blinding sun or torrential rain, blazing heat or freezing snow, off-road or on, this light is designed to take whatever abuse you can throw at it and deliver consistent performance for years and years to come.

Although the performance of this light completely speaks for itself, let's look at a few of the key features:

Heat Management
CREE makes some of the best, high efficiency RED LED on the market, and this light uses 6 of them (XPE2, BIN 701), each driven at a maximum of just over 700 milli-amps. And speaking of power, this is right at 10 WATTS being consumed directly by the LEDs. Did you know that RED LEDs, more than any other color category (besides amber) take a tremendous hit in efficiency as the temperature of the LED rises? This is why it is vitally important to provide a good thermal path from the LEDs to the outside world and then provide a large surface over which this heat can dissipate, otherwise a lot of that power can be completely wasted. Through the use of some sophisticated CNC machining techniques, the DS-500 is milled from a solid billet of 6061 aluminum and, despite it's remarkably small size, has nearly 30 square inches of cooling area. Some of the best permanent thermal epoxy in the industry is used to couple the aluminum substrate LED boards directly to the housing for the best possible thermal cooling. Is this cheap? No. Is it easy to do? No. Is it worth it? You bet, especially when industry leading performance is the sole objective. Any taillight that is fully enclosed in plastic is automatically going to be limited by the inherent difficulty of getting heat out of the electronics. Can an all plastic taillight still generate some decent light? Sure, but chances are you're not here looking for a compromise between price and performance, you're here because you're looking for the last best taillight you'll ever need, so read on...

Power Under Control
Unlike some of the other guys who are trying to compete with the DS-500, there is no need to carry a separate taillight for night use. The DS-500 uses a brilliantly designed and laid out boost-mode power supply with an incredibly wide dynamic range. When running at full power (Level 5), the light puts out a searing 800+ lumens, but throttle back to level 1 and now you're at a battery-sipping, 1-watt level (around 70 lumens) that makes the light eminently usable at night. Levels 2, 3, and 4 are spaced in between the two extremes and give you the flexibility to control the amount of light and run time for any given lighting situation. On top of being able to burn steady at any of the power levels, the light has 6 independent flash modes. I've tried to optimize three for daytime use, and 3 for nighttime use. All three of the nighttime modes use an ON/Pulse technique where the light never turns off, but instead pulses between two different power levels. This maintains your visual "uniqueness" on the road, but it also helps drivers maintain their depth perception at night. The last flash mode ("toggle") if angled down slightly, is kind enough for most group riding, but your mileage may vary a bit on that one, just depending on the rider behind you. Of course each one of these 6 place holders is completely customizable, so if the mood strikes you, have fun experimenting with different flash techniques!

Multi-Lens Beam Shaping
There are a lot of "bright" taillights out there that are painful to look at if you're standing right at them or holding them. However, a much better real-world test is from a long distance and NOT from directly behind the light. Taillights that use a single type of lens are automatically in a compromising situation where valuable lumens are either going to be wasted, or under utilized. By focusing the beam extremely tightly, a lower power taillight can be perceived as much brighter than a similar design with a wide-angle lens; however, it's usefulness falls off quickly if not viewed from straight back. In an effort to mitigate this problem, several other medium- to high-power taillight manufacturers will use a single type of wide-angle lens. This solves the off-angle problem, but now you've just wasted a significant portion of your available lumens directly DOWN into the pavement and UP into the sky. The DS-500 uses a hybrid lens approach to generate not only a tightly focused spot beam for extreme distance penetration, but also a unique, and highly efficient elliptical beam that is wide and flat, putting the light exactly where it's needed with very little waste. This is an extremely important feature for riding on tight curvy roads, or for any time you may have traffic approaching you from behind at off-angles. Of course, what you notice from this is that the light cannot be mounted both in a vertical configuration OR a horizontal configuration (like you see here) without needing to rotate the elliptical lens by 90 degrees. This task is accomplished by removing a single screw to release the lens cover, then swapping the position of the lenses.


When you put it all together, you get a highly efficient taillight beam pattern, powerful enough for effective daytime use, but also uniquely capable at night.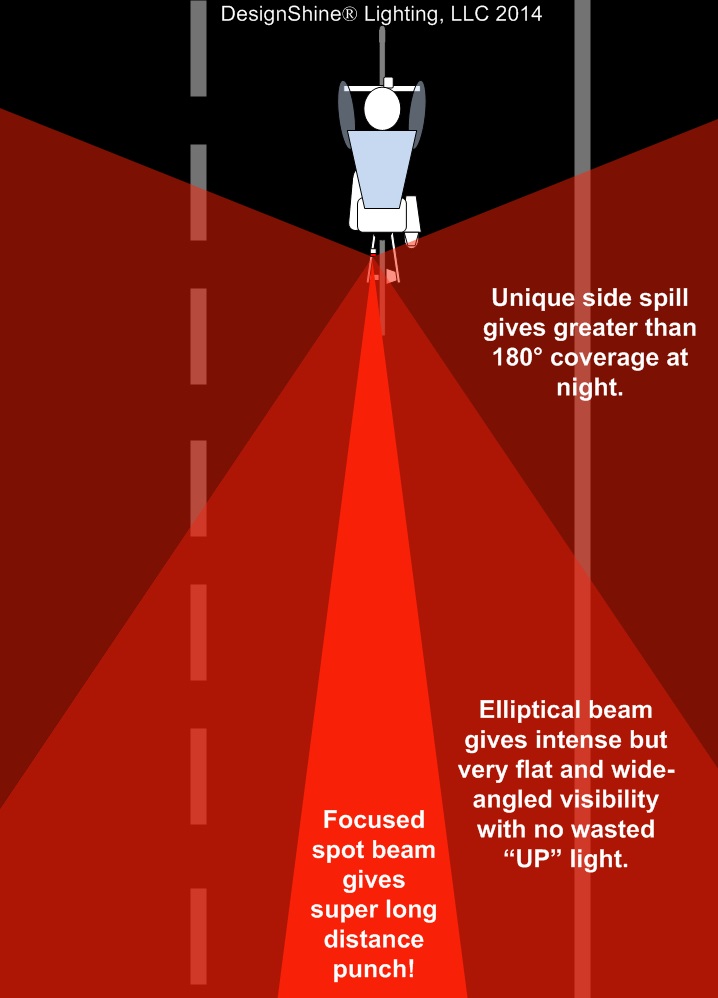 Side Lighting
If you start to do a survey of available taillights on the market, you'll find that there are precious few that make a serious effort to address side visibility at night. Those that do would certainly not be adequate for effective daytime use. From the very beginning, the concept of the DS-500 was to use every single lumen coming out of the LEDs. The result of this idea is what you see today, with the water-clear lens cover. This piece is a real work of art. CNC'd and vapor polished from impact resistant polycarbonate down to sub milli-meter tolerances to provide effective o-ring sealing with a single hold-down screw. Around 10% to 12% of the light that is generated at the LED naturally "leaks" out the side of the collimating lenses, and the clear covering allows all of this light to be used effectively at night for side-marking, similar in intensity to motor-vehicles as shown below.



Universal Battery Support
As high-powered bike lights have become more and more popular, the 7.4V lithium-ion battery has emerged as the standard. Lupine, Dinotte, Magicshine, Gloworm, Gemini, and several others, all use packs configured for 7.4V (nominal) output (sometimes referred to as 8.4V max). The DS-500/1300 both take advantage of the widespread availability of these "consumables," so you'll never be very far away from a battery replacement when needed. If you purchase one of the recommended batteries from on the Batteries/Accessories page (thanks to our partner vendor Action-LED-Lights), then you'll be able to plug directly into the DesignShine lights. However, even if you have an existing Lupine or Dinotte battery, a simple adapter made from an extension cable is all you need to get up and running. I'll be making some of these adapters, so check the Accessories page for availability. Each light also ships with a separate wired pigtail connector that you can use to connect to any 7.4V li-ion battery of your choice, should the need ever arise.

Rugged Quick-Release Mounting
If you want to mount a DS light to your bike, or any other platform, all you need is a mostly-round bar between 10mm and 32mm diameter. Both lights take advantage of the fantastically robust Cateye quick-release mounting system. These glass-nylon mounts are virtually indestructible and will keep your lights securely attached to your bike, no matter what kind of terrain you're on. At the end of the ride, if you need to take the lights with you, just press the spring-loaded lock-release slider and slip them off. When you come back to the bike (or any other bike on which you've mounted some clamps), just click the light in place and it will be perfectly aimed, exactly as it was before. Once you've dialed in the aiming, it stays exactly where you want it. Each light ships with one mount (size of your choosing), but additional mounts for multiple bikes are available on the Accessories page.

Last But Not Least - Safety and Buying Confidence
At the end of the day, this is really what it's all about. We all have friends and family that we want to come home to after a great ride, and this is exactly why I starting building these lights in the first place. No light can protect you 100% of the time, nor should it replace practicing good road awareness, but it's becoming more and more important to arm yourself against distracted drivers. If you want to see what one of these lights can do for you, just pick one up and take it for a spin. Run it hard for 30 days and really see how it performs under a variety of lighting situations. Not only can you have more confidence on the road, but you can also have confidence in your purchase, knowing that even if you get it dirty or run it in the rain, etc. you can still send it back, no questions asked. My only request is that there be no obvious dings in the case or lens cover.

Happy and SAFE riding!
Stephen